We Take Health, Safety and Security Seriously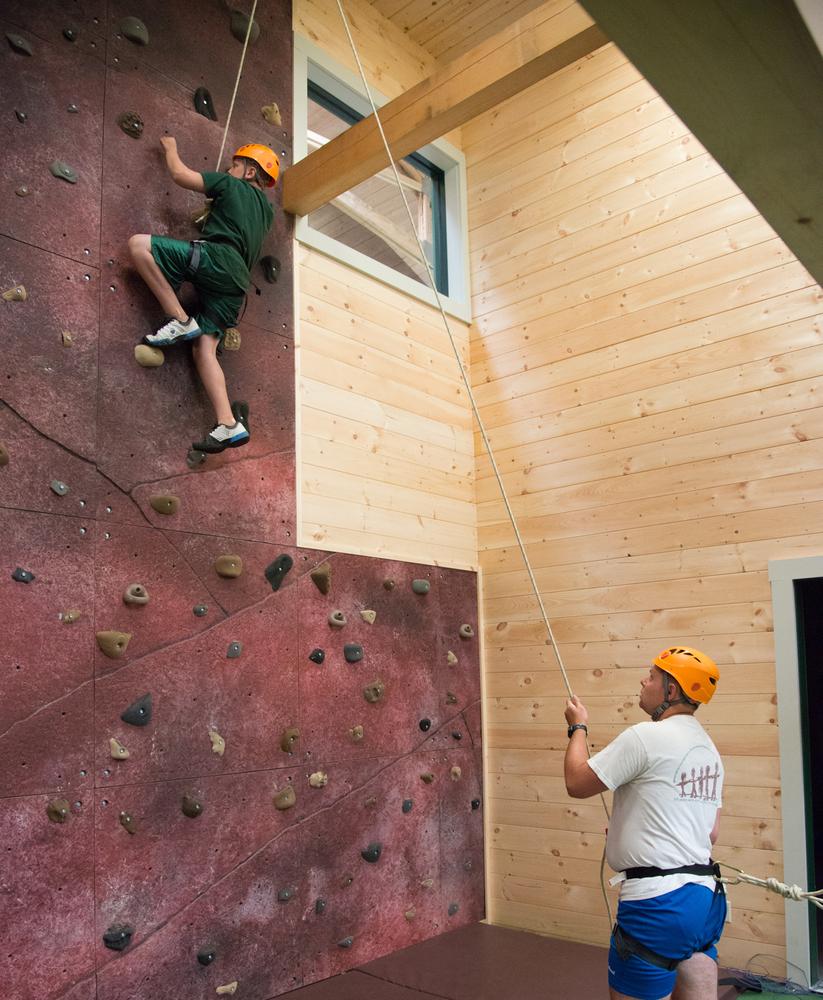 While camp is in motion few campers see the multi-levels of safety networks that we put into place to keep them safe. In addition to bunk counselors, camp life is staffed with on-duty counselors who add an extra layer of help to troubleshoot issues and be an empathetic ear.
Our waterfront staff is both CPR and American Red Cross Lifeguard certified each year. Trip Leaders come to camp with years of experience and are certified as Maine Trip Leaders and in Wilderness First Aid. While out on trips, where appropriate, they carry satellite-enabled communication devices to be in contact with camp when necessary. Our high ropes course staff is trained annually on how to safely run a ropes course, which includes up-to-date safety and rescue procedures.
Much of a good safety plan is about boundaries. While on the lake, campers must wear PFDs and remain 'in-bounds' – an area which is large enough for individual exploration, but remains in sight and sound range of camps waterfront. Camp's location provides natural boundaries between Mount Winnebago and Echo Lake. While campers move about camp freely between periods, their presence at each activity is quickly noted!
Health Promotion

Health Promotion
Campers often have so much fun, they forget about those basics! Our counselors are experts at sunscreen, bug spray and hand-washing reminders. On hot days, campers are reminded at mealtimes and during activities to drink water and water spigots are sprinkled throughout camp so campers can easily access water when needed.
"The cabins were simple structures without electricity, in-house plumbing, or air conditioning. The emphasis was on the essentials: friendship, skill-development, experience by doing, empathy, and good manners. I experienced and lived these intangibles. They have shaped my values and my beliefs as an adult."
– Billy, Boston, MA
Our Health Center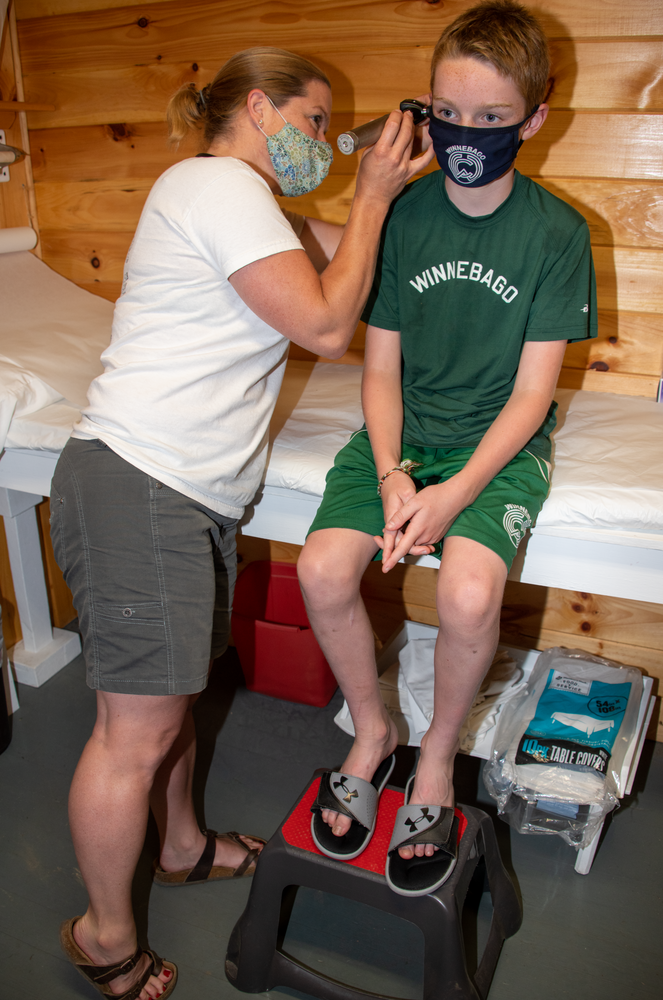 Our Health Center
Our camp medical center is directed by Dr. Laura Lilienthal Blaisdell, Andy's wife, a board-certified pediatrician with a Masters in Public Health. She is a national leader in the Camp Medical field, a mom of two campers and has been at Winnebago for over 20 years.
Along with Dr. Blaisdell, our medical staff consists of two camp nurses who staff three health clinics a day alongside the medication administration or "MedPass" clinics. Upon arrival at camp each camper receives an individualized review of their medical history by one of our health staff in addition to being checked for illness. This type of check is done with every camper prior to leaving for their overnight trips and again when they prepare to go home for the summer.
Our medical team does a "Mini MedSchool" with counselors and staff during our training period educating them on how to care for the health of campers. We train counselors to identify and address common illnesses, promote health hygiene and the application of sunscreen, among others. Of particular note, bunk counselors are trained on daily tick checks that are part of the daily morning bunk inspection.
The medical team also visits the younger campers in their cabins on a near weekly basis to ensure proper hygiene and to make sure fingernails are clipped and medical issues have not gone unreported.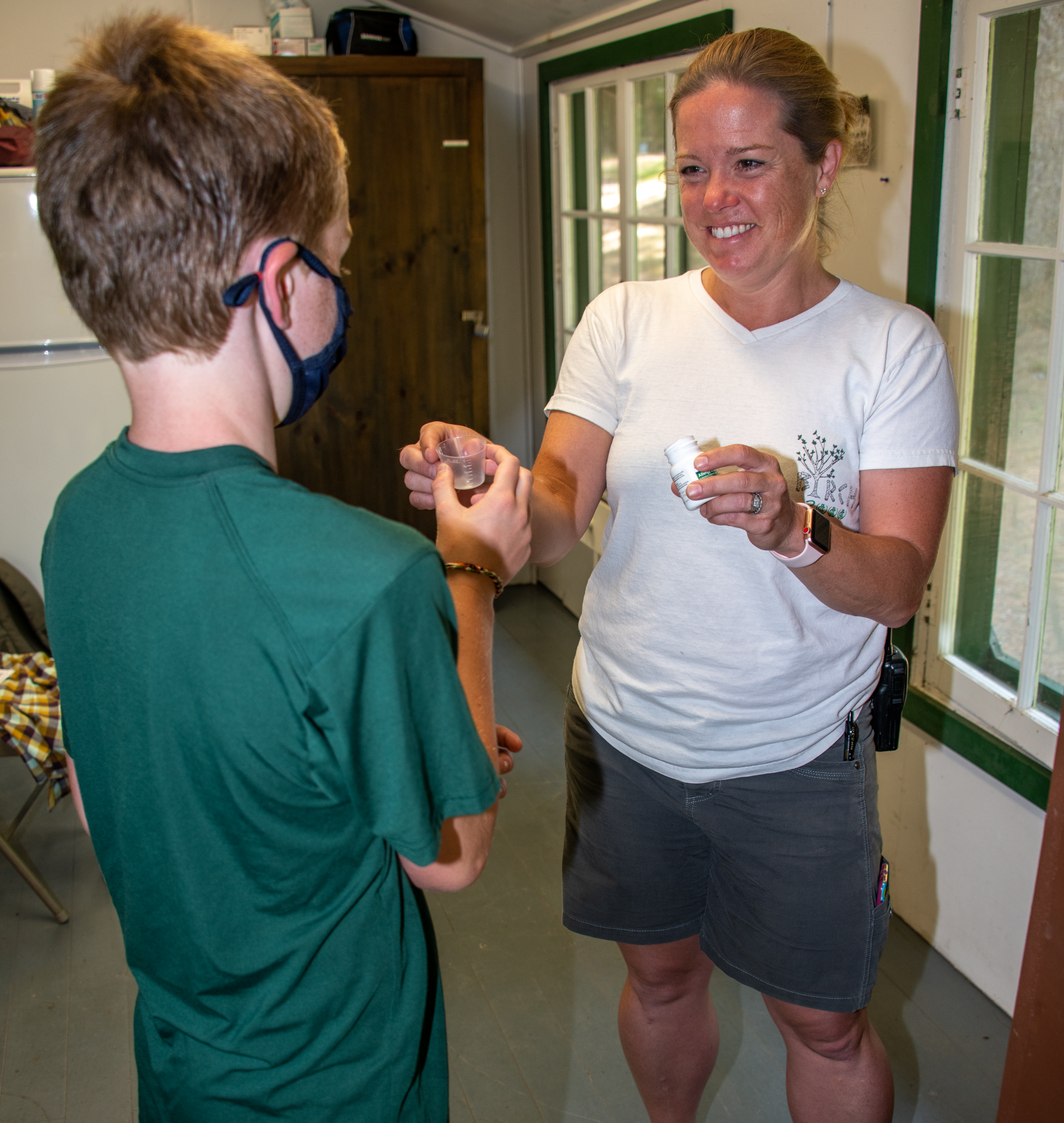 Our health clinic is prepared to diagnose and treat a variety of health concerns. We have the ability to continue treatments such as allergy or growth treatments through the camp season. Visits to the health center are documented and reviewed with Andy on a daily basis, and parents are kept abreast of all concerning medical issues.
Camp Winnebago has close relationships with a local orthopedist and orthodontic specialist. On rare occasions when it is needed, Maine General Hospital is 17 miles away, providing timely access to emergency services. As a Maine pediatrician trained at Barbara Bush Children's Hospital at Maine Medical Center, Dr. Blaisdell is intimately connected to Maine's pediatric hospitalists and specialists who can be utilized as the needs arise.
At the end of the summer, Dr. Blaisdell's health team and Andy send a letter to all parents of campers that had health issues during the summer. This letter confidentially highlights any concerning health issues that were experienced at camp and/or any issue that will require follow-up with health care providers at home.