A Summer Home
How thrilling it is to see Camp Winnebago for the first time. After passing the Fayette Country Store, the road turns to the right and there it stands, the first glimpse of Echo Lake, shimmering toward the horizon. There is a sudden flush of excitement as Camp is so near you can almost taste it. The green and white sign appears on the left, and across the road, the beautiful stone pillars frame Winnebago spelled out in birch logs high overhead. In through the archway and suddenly you are immersed in Camp.
Our Food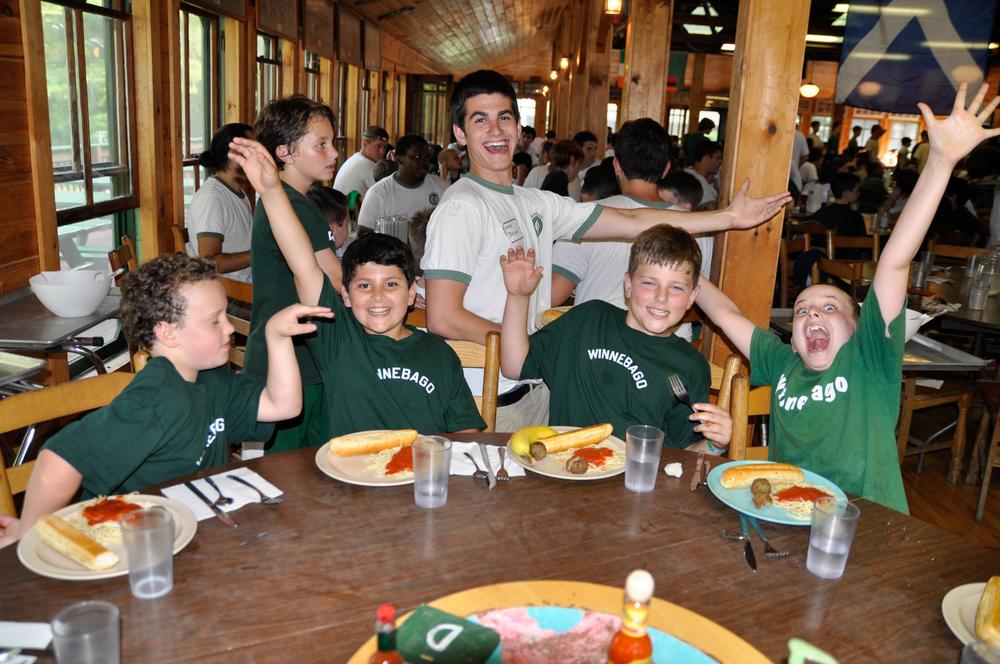 Our Food
We have been satiating the hunger of campers and staff for over a century. We serve three meals a day replete with a morning and afternoon fruit snack. Camp is nut free and we can accommodate most food allergies and restrictions. Meals are served buffet style and the entire camp eats at one sitting around round tables, which promotes a familial social atmosphere. Our food menus change daily and we strive for kid-friendly meals that are made from scratch; fresh and nutritious. Campers look forward to Friday's pizza night, our lobster bake (or chicken BBQ if preferred!) and daily desserts such as strawberry shortcake topped with berries that campers pick at a local farm!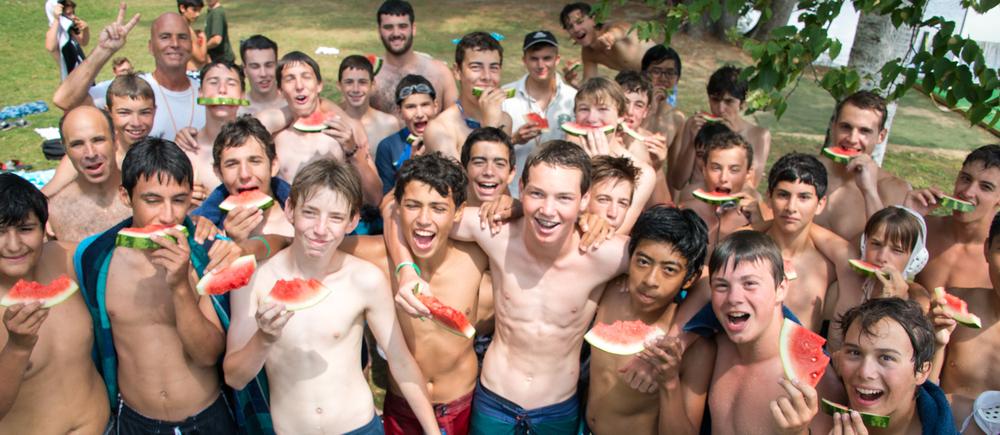 For a little 'something sweet and extra,' Camp Store is offered twice a week to each age division, serving a sweet treat. There is nothing like the boisterous cheer of an age division after our head counselor tells them at lunch announcements they have "CAMP STORE!"
"The best thing that ever happened to me. Go there. For as long as possible. Do it."
– Camper Testimonial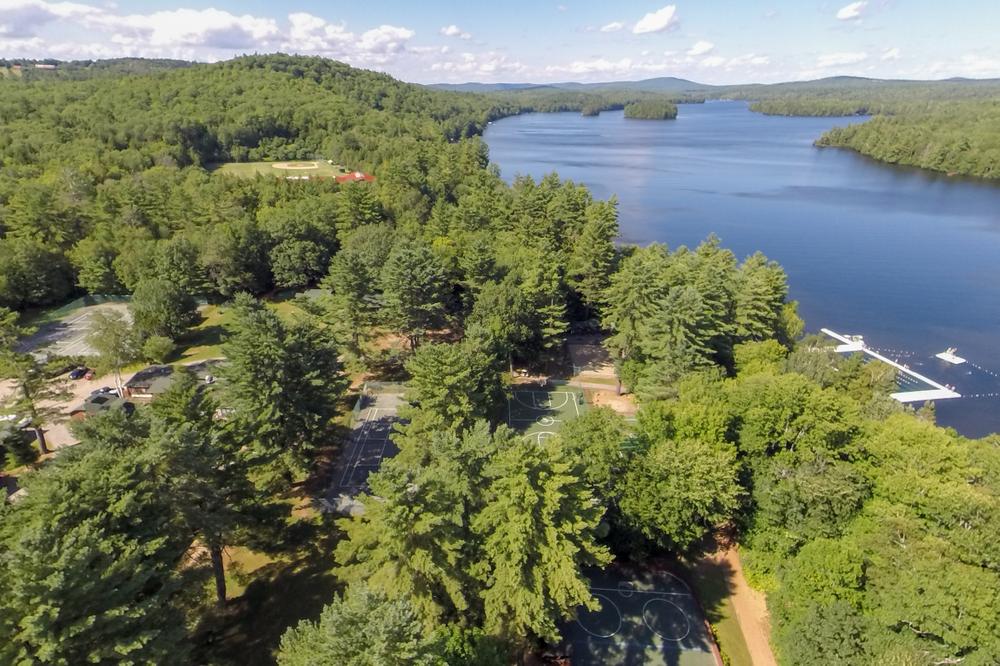 Camp Winnebago's physical plant was designed with a distinct philosophy of maintaining harmony with the landscape. On the shores of six-mile long Echo Lake and among 100-year old pine and hardwood trees, Winnebago sits on 500 breathtaking acres that includes two miles of lakefront.
Winnebago has a plethora of courts and fields and it never feels crowded at camp, even when all the facilities are in use at once, and use them we do! Winnebagans can be found on our three softball/baseball diamonds, two outdoor basketball courts, two soccer fields, a clay and a beach volleyball court, a Ga-Ga Pit, two tetherball courts, a sprawling low and high ropes course and seven Har-Tru tennis courts. We also have a 10,000 square foot Field House that encompasses hockey, basketball, volleyball, short court tennis and a climbing wall.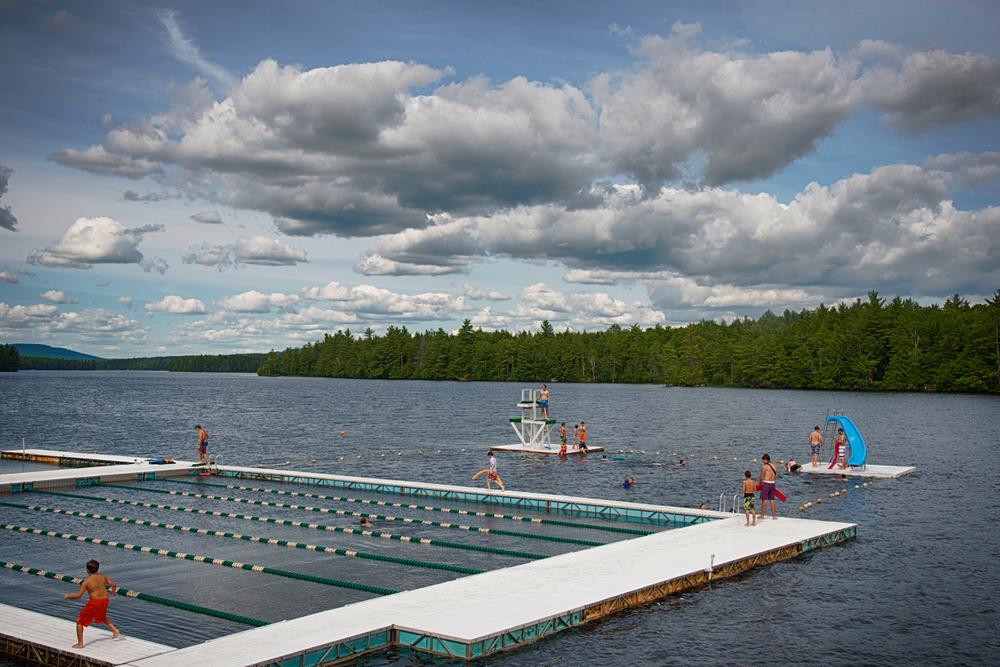 Our waterfront is a central hub of life at camp and the gateway to many water activities that we enjoy on beautiful Echo Lake. Campers can play in the crystal clear shallow beach area. They improve their swimming skills in our six-lane natural lake pool and enjoy the high dive and waterslide in the deepwater enclosed Quad. Our boathouse houses sailing, canoeing, kayaking, windsurfing and water skiing. Once campers demonstrate competence and confidence in boating, they can launch on Echo Lake adventures alone; a wonderland of discovery whether along the craggy shoreline, gliding quietly alongside loons, or feeling the thrill of a sailboat heeling as the sails fill and accelerate through the water.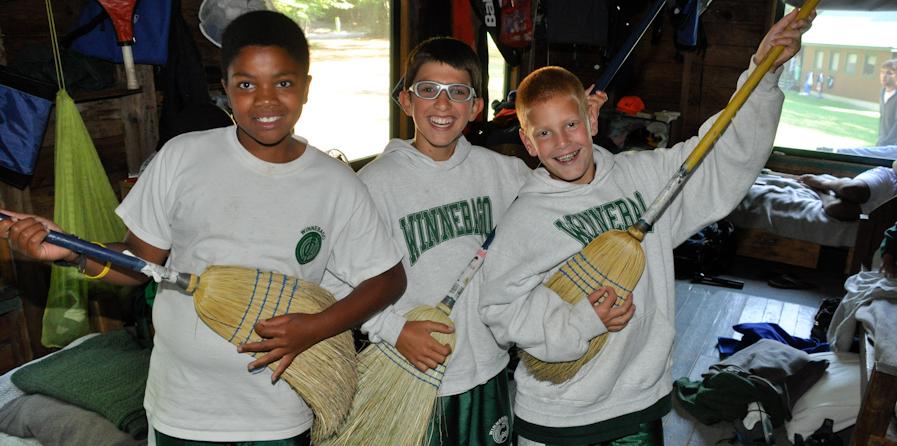 Campers live in screened cabins with their bunk counselors. Two common wash-house and shower facilities, affectionately known as "the Greenhouse," are within close range of the cabins. In a cabin area called "Eagle Row" closer to the center of camp, six younger campers share a cabin with two counselors in a cabin. Other cabin areas like "The Circle" and "The Birches" house campers by age with 4-5 campers and one counselor. Among the cabin areas, it is not uncommon to find boys lounging in their rainbow "hammock villages" that organically pop up among the mature trees that shade the cabins.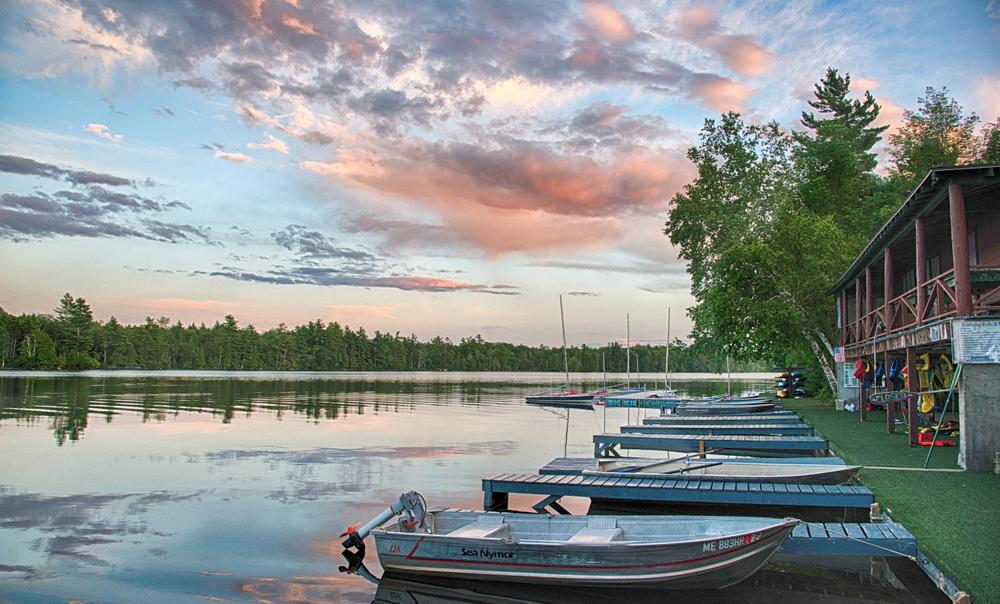 There is no shortage of places to explore at camp. A stream that babbles its way through camp provides hours of entertainment. We have more than 65 buildings such as ping-pong and a Winnebago Museum, and campers easily discover new experiences in what interests them. Large buildings, like our Lodge, allow for the entire camp to commune nightly; a central experience that knits the various age groups together and involves an activity, whether an age group play, the Mr. Winnebago Competition or another all-camp event.
View our virtual tour